Testimonials
Here's what a few clients had to say.....
Jim,

I just wanted to finally take a minute (long overdue testimonial by the way) to thank you for an incredible day of smallmouth fishing on lake Mille Lacs. For the day we caught between 35 and 45 fish with the majority of the fish being in the 17.5 to 20 inch range. During this trip I had caught a 5 pound 13 ounce giant, which at the time had been my personal best.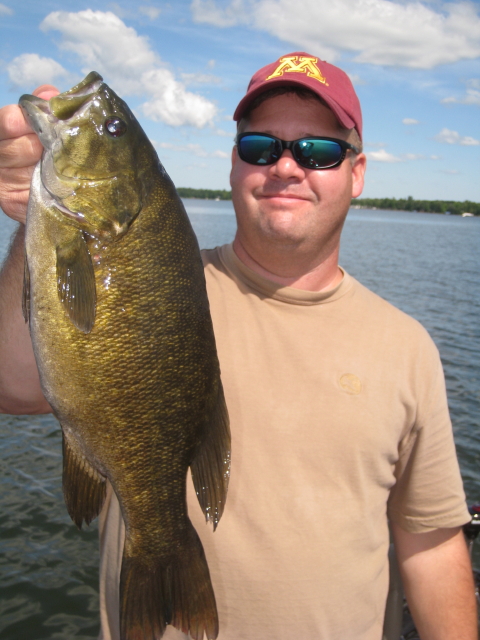 Since this time I now have upgraded my personal best to 6 pounds 3 ounces and this is what has prompted me to finally draft this testimonial of thanks. Although our trip was a great day of catching it was as much if not more a great day of learning. When we started the trip I asked if you would share your insight and knowledge as it relates to smallmouth and their patterns over the course of the year e.g. bait types, water temp and depth, seasonal patterns etc. and that you did. It would have taken me 2 years of on the water trial and error to learn what I learned in that one day of fishing with you. Anyone looking to book a trip and participate in both learning and catching will be well suited with your services, you're an excellent guide and teacher.

See you on the water,

Jim Showalter, Minneapolis, MN
Jim
We can't thank you enough for the great day on Mille Lacs yesterday!  We appreciated the tips and teaching you gave that will help us when we venture on to Mille Lacs to fish for smallmouth. We both learned a great deal and were surprised by what we learned!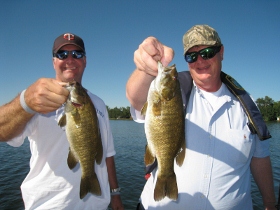 I have fished with a lot of guides over the years. Some good, some not so good. I can honestly say that you are without a doubt, the best with whom I've ever fished. Learning and having fun with the guide and fishing partners is the most important thing to me on a guide trip and we achieved both of those objectives yesterday. The quantity and quality of fish were an added bonus!
Thanks again and hopefully, we will be able to connect again next year for another great day on Mille Lacs!
Jeff France and Morgan Bickel,   Plymouth, MN
Jim,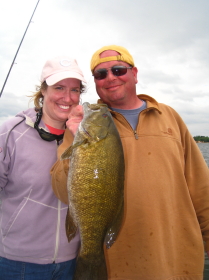 Once again, I would like to thank you for an absolutely awesome day of trophy smallmouth fishing on Lake Mille Lacs.  You exceeded my expectations with your guiding ability and hard work in putting my wife Beth and me on the fish.  You set the bar high with all the pictures I viewed on your Web site before the trip, however you certainly delivered under less than ideal weather conditions.  You are a true professional.
Please let me know if you are available for another day  next year around the same time as I'm already wanting to come back to chase Mille Lacs smallies!

Sincerely,
Bill Heussner
Wheaton, IL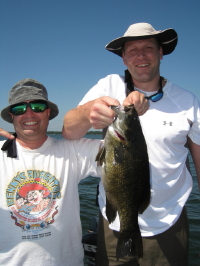 Jim,
It's been years since I've been on Mille Lacs, and this was the first time fishing for smallies.  I've fished alot over the years but NOTHING compared to the experience on Mille Lacs with you.  You are a good guide, we had a GREAT  day....it was a true memory.  Pound for pound and boat for boat we landed the most fish and the biggest fish!  Smallie fishing with Jim will be an annual event for years to come.  Jim ..Thank you for a great day and great memories.
Christian Sirek                                                                                                                                  Minneapolis
Jim,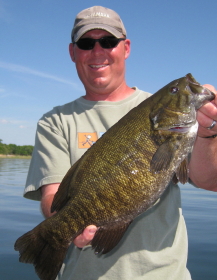 I just wanted to thank you for one of the most enjoyable days of fishing I've ever had.  I caught my personal best smallmouth on the first fish and it got better and better from that point on.  Catching two fish over 5 pounds and about 15-20 fish over 4 pounds was far beyond what I had hoped for.  I never thought I would stop taking pictures of big fish because they were all big fish.  You were right, my friends thought my pictures were of the same fish!!
I appreciate the work you put in before the trip to know exactly where we could catch such quality fish.  That didn't happen by accident, you are an excellent guide, great fisherman, and on top of that you are a great guy to fish with.
Shannon Jacobson
Wyoming, MN
Jim,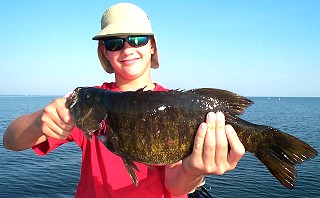 Thanks for your kind notes. We had fun. More than fishing, I personally enjoyed your professionalism and kindness as a man. Our trip was the essence of fishing: Fishing, learning, enjoying God's Bounty, and companionship. I will contact you for future trips.
PS….I also enclosed a photo of Ben's first fish of the season. 
Thanks
Dr. Mark Wilhelm, Woodbury, MN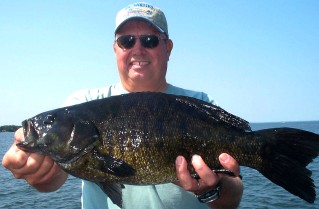 Jim,
Just a short note, to let you know what a great time I had fishing with you on the guide trip last summer.  I learned a lot about smallmouth bass fishing and I landed many large fish that day. The smallest of them being 16", and the largest being a 21 3/4" monster weighing 6 lb 13 oz.  THAT WAS AN AMAZING DAY OF FISHING!!! The great thing is that they were all released to be caught again. Call me this spring, as I would like to schedule a few more trips with you this coming summer.

Good Fishing
Bill Eye
Walkon, MN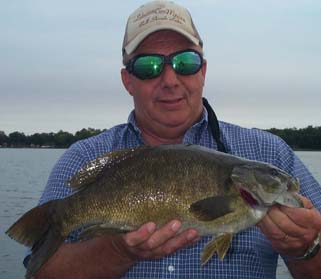 Jim,
I normally fish the Tennessee River (Pickwick, Wilson lakes) for smallmouth which is only a 6hr drive. Making a 14 hour drive to fish with you (someone I'd never meet) to fish a lake I'd never heard of, made me question my decision making. I can now say that after fishing in nine states, Australia and New Zealand I've never felt more welcome nor have I had a better time. What can I say-after three days on the lake with you and 72 smallmouth between 3 and 5 pounds I'll be counting the days until I make that long drive to fish with one of the nicest guides on one of the most fantastic lakes I've ever had the pleasure to be on. I'm coming back to look for that smallmouth that broke me off on 17 lb. test. See you this fall.
Larry Strattman
Cape Girardeau Missouri

Jim,
 
Thanks for guiding me to my personal best 5# 14 oz smallmouth bass….Had a great time sharing the boat with you. Our Day will make a great TV show!
Don Dziedzina
Illinois Outdoor TV Show


Jim,

Nate and I had a blast with you the 2 days on Mille Lacs with you. Thanks for the pictures.
Gene Cornolo
Joliet, IL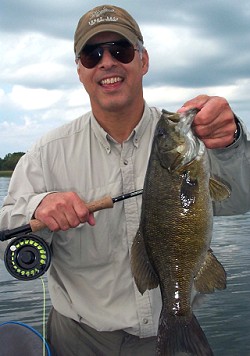 Jim,
 
Thanks for an excellent outing yesterday. We had great fun.  You're an excellent fisherman, guide and a nice guy. Keep us in mind if you think the conditions are good (for fly fishing). We'd be available on short notice. Your fish up there (Mille Lacs) could make a guy lie awake at night!  I love the Mississippi, but I'm starting to think that with a little luck, Mille Lacs could yield a true fly-fishing trophy. Best wishes to you and family and thanks again!
Dr. John Weitz, St. Cloud, MN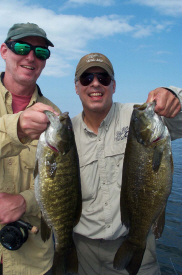 Jim,
Thanks for a fantastic day on the big pond.  We had a wonderful time and we were blessed with ideal conditions.  We still can't get the smiles off our faces.  You are a superb guide and great fun to fish with.  Keep us in mind for next year (2008) especially if you have short notice openings with reasonably good conditions. Take Care and Thanks again.
Chuck Hiemenz, St Cloud, MN